Have you ever considered the reason that why some girls look very pretty whatever they will wear? Although, they are just in simple jeans and a T-Shirt, the outfit comes off stylish. Maybe you will think that their outfits are from the brand of the designer or they own a professional stylist, or they have a big wardrobe. But there is another factor that will have an influence on whether your outfit is harmonious and discordant. That is the fashion necklaces that are added to the clothing.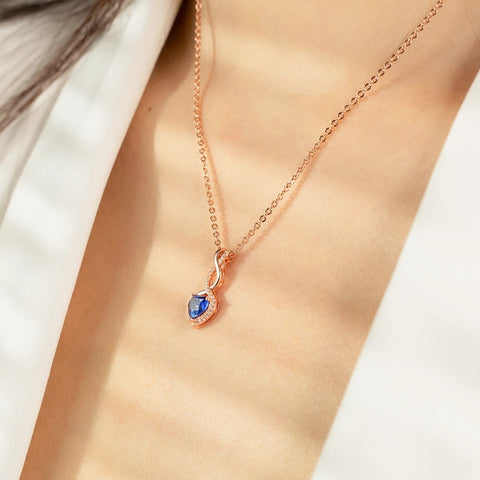 Matching accessories is a basic skill that girls are caught up with the trend. It could distinguish well-dressed people from those who look boring. Once you make it, you will seem faddish whatever you will wear. The best way is to find an incredible necklace under any budget, which is also a particularly nice method to expand your wardrobe. A necklace is an ornamental chain or string of beads, jewels, or links worn around the neck. It is commonly thought that necklaces should be a decorative accessory to the layers for each person. But for girls that is passionate about fashion, it's not simply a necklace but an item that decides how vogue they are in dressing up. Thanks to its multifunctional feature, the necklace is becoming more important to women. From high-end necklaces for special occasions to fashionable necklaces that can be worn every day. Everyone on your list should have a perfect necklace. Now we are here to help you find the 5 stylish necklaces to enhance your outfit.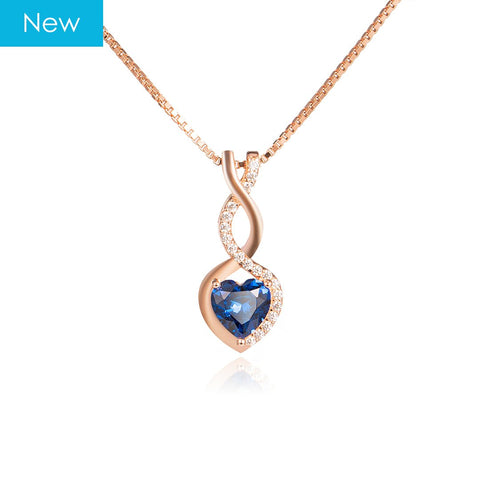 Shop:Ref: PN.19101.SZ3
1. Personalized Double Layer Long Necklace
A long necklace is suitable for some casual occasion attire. When you are paired with relaxed and comfortable layers, it looks free-spirited and easygoing. This is a rose gold necklace with name. 4 kinds of length are offered, that is 18 inches, 14 inches, 16 inches, 20 inches, and 22 inches, if you are going to match it with the casual garment, it will be better to choose length in 22 inches.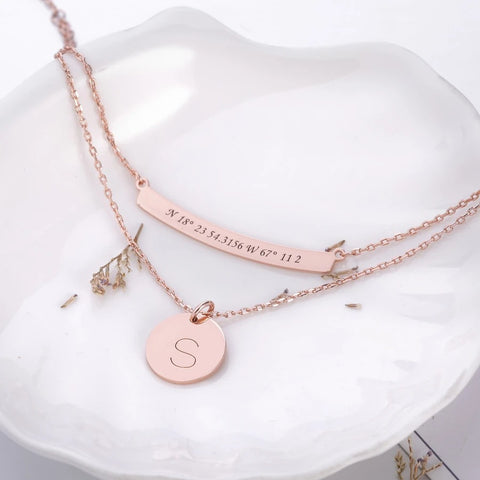 Designed with a bold round pendant adds the right trim to a simple shirt, T-shirt, and dress, which makes you look graceful and free throughout the day. If your skirt is rose gold or has colored, it can ensure a balancing appears when the color of the long stylish necklace is the same as your skirt or the details.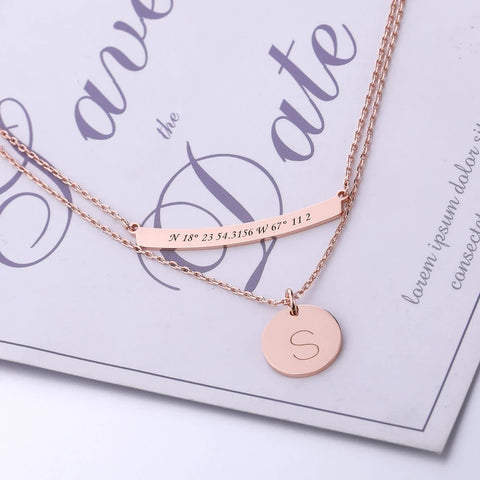 If you are fond of the v-neck or open neck style, then decorate your bare skin with a long necklace, which will make you look brilliant. It featured a double-layer chain that could create a seductive look for your dressing up.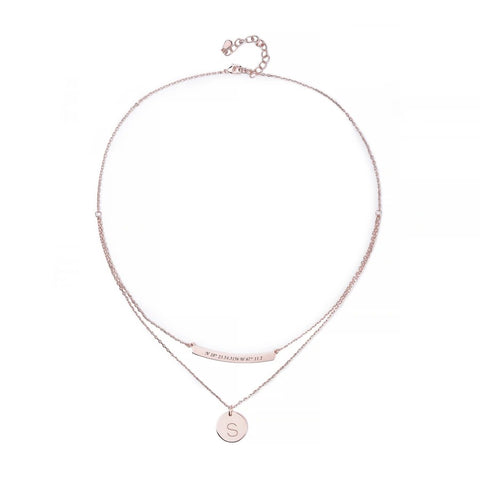 Long chains matched with your loose-chic clothing are a wise choice when you are walking in the park or going to work or any time when you feel comfortable, which is an easy style like a professional stylist.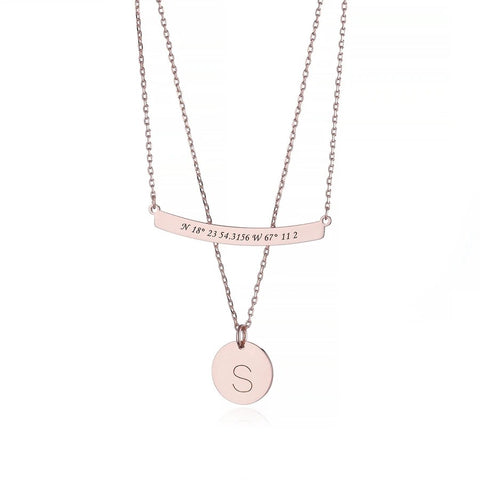 Shop: Ref: PN.18131.S3
2. Silver Initial Discs Personalized Infinity Necklace
 This is an infinity silver chic necklace with a disc. A picturesque silver necklace is very suited to formal wear. For office clothing, to select an appropriate necklace is exceeding difficult. Because you can not exaggeratedly overdress yourself on this occasion. It is including conferences, office meetings for formal occasions.
Unconventional small pendant and chain are the same with all kinds of office shirts and suits, skirts, formal pants, making you look professional and elegant. Silver goes well with any color of clothing.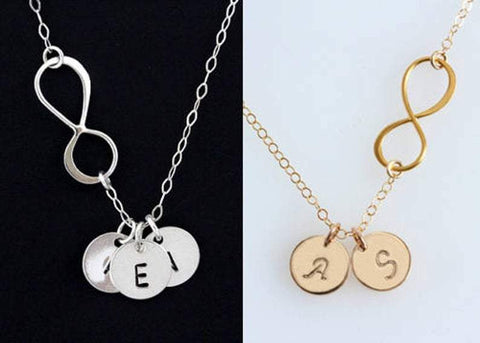 If you want to show a different look in the office, the most important thing you need to do is to break a few small rules of traditional dressing and add a stylish necklace for work or chain to your working clothes, which will make you stand out.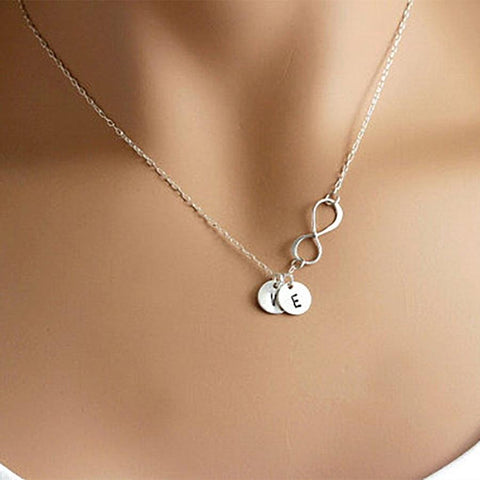 Shop: Ref: PN.19146.S3
3. Sparkling Heart Pendant Rose Gold Necklace
When you are planning an unforgettable and especially anticipated date, you will have a headache in outfits. A sparkly stylish necklace design on top of your apparel will be a great finishing touch at this time. Many transparent crystals surround the entire heart-shaped pendant, which completes a glaring and bling look to the necklace.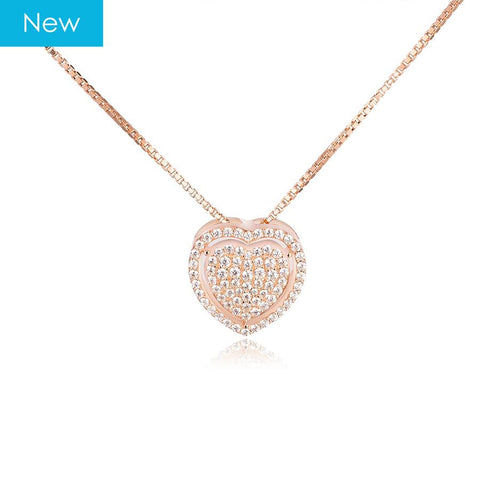 This necklace is extraordinary shine both in its pendant and chain. Thicker chain and large heart pendant will make you glitter when the lights will off, you could be the focus when you are on a movie date.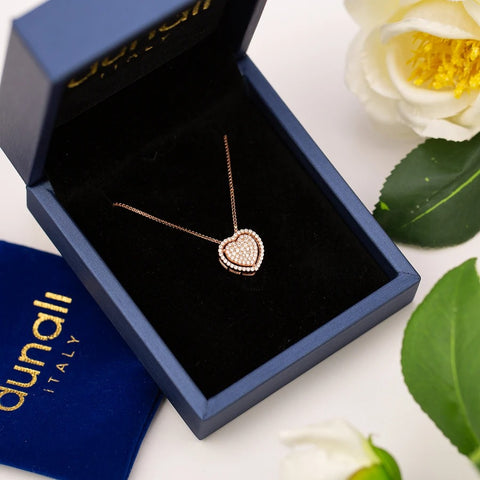 What makes this necklace unique is that it has a very solid pendant. It is because of  many crystals around the pendant so that the necklace has a translucent quality, which provides a limited touch of sophistication. You will showcase your own style and taste no matter what kind of date you will go on.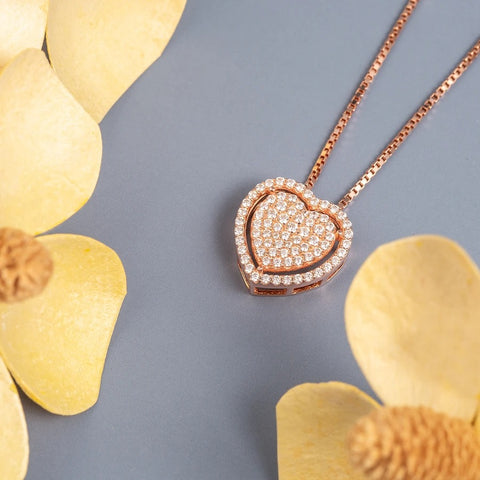 Shop: Ref: PN.19115.SZ3
4. Signature Personalized Letter Pendant Script Necklace
When you are invited to a party, usually, you will go for the evening dress or prom dress. If you go to wear the strapless special occasion dress, then the necklace will be a nice embellishment for your gown. Thus, the best decoration is to select a short or a choker necklace, or a single chain necklace.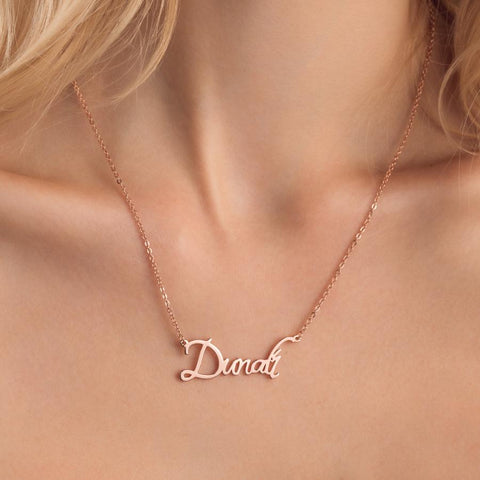 This short letter pendant necklace will increase the visual effect of your upper body no matter what you decide to dress up a strapless ball gown evening dress or a line strapless prom dress, you will look like a princess.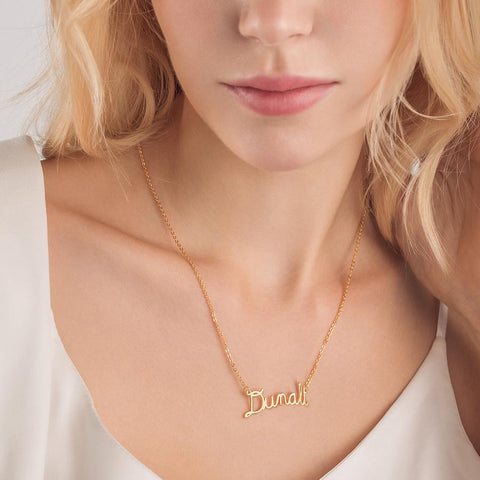 The most reassuring thing is that the appropriate length will make you move in the banquet freely, or dance conveniently. There will be no embarrassing things like chain-hooking clothes or hair. Therefore, determining such a short cute stylish necklace would be a smart way to make you look fantastic and decent for the banquet.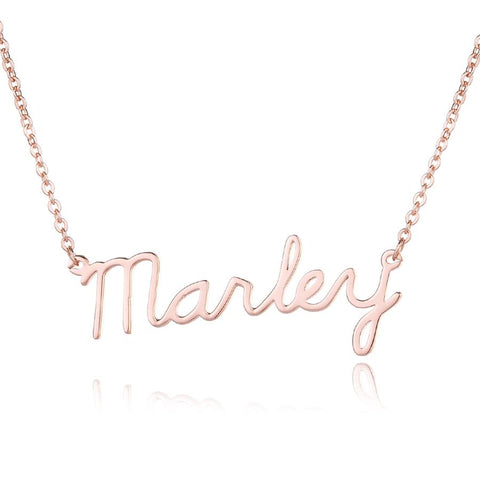 Shop: Ref: PN.19023.S3
5. Bow Decorated With Stones Solid Locket Necklace
It is a locket necklace with stones. The intricate and heavy necklace is perfect for the wear of a wedding guest. Weddings and receptions are occasions where you can wear complicated and heavy necklaces. A bow made from countless gold crystals lays in the center of the locket, making the whole stylish gold necklace look gorgeous. But be sure to consider the balance of everything, including the size and length of the necklace. If your skirt has a round neckline, choose a medium-sized piece of jewelry to match your overall image.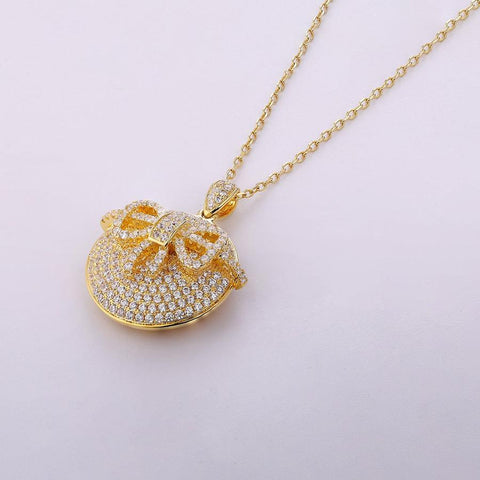 Shop: Ref: N.31018.SZ3
Conclusion:
We may encounter different occasions in daily life. But for each situation, the clothes we match will be also not same. At the same time, Wearing of trendy necklaces also needs to be considered the style and occasion. If you have selected a befitting necklace, In the eyes of others, you may be a particularly sensible dresser. I hope these suggestions on wearing necklaces will help you dress appropriately for every occasion.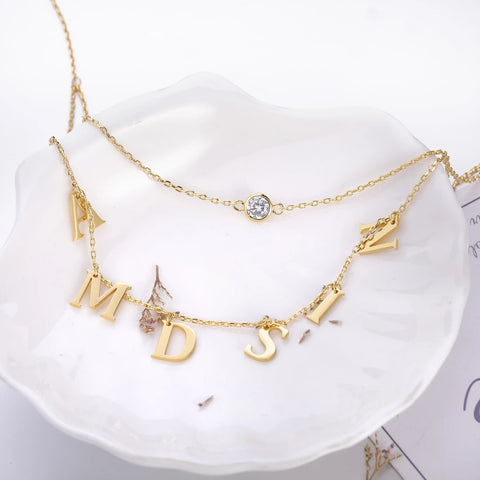 In addition to necklaces we talked above, In fact, We still have a lot of unique necklaces for your reference to decorate your daily wear.
It is a gemstone necklace with choker double layers. Its layering and enough length determines that it is especially suitable for matching loose and casual clothing. The name consisted of a single letter hangs around the necklace chain, showing off its adventurous and unabashed individuality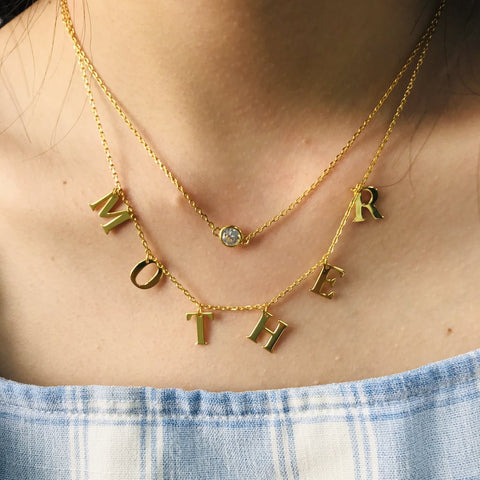 Shop:Ref: PN.18129.SZ3
This is a necklace that is ladylike with a thick silver name. Ultra thin chain as a thread fish a magnificent texture. You will be like a princess when wearing. Pairing it with a ladylike skirt, special occasion dress or a formal suit is a great idea when you are going to a date or attend to a party, or work in the office.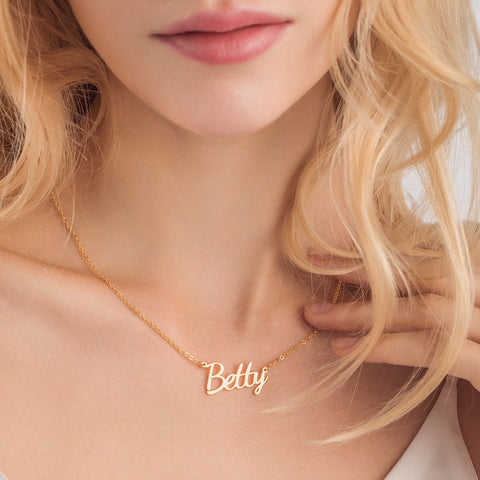 Shop: Ref: PN.19019.S3
This is a vintage heart pendant locket necklace. Tridimensional and thick patterns express its grand and magnificent vigor. It will be matched well with the wedding guest dress.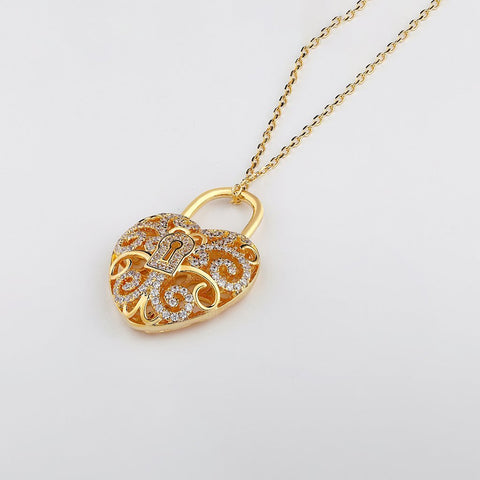 Shop: Ref: N.31013.SZ3
As the Mothers Day is around the corner. We are having a promotion for the Mother's Day. If you buy 2 pieces at one time, you will get 1 free. Add 3 pieces to chart, the lowest price will be free.
Related Post:
HOW TO SHOW OFF YOUR EARRINGS BASED ON YOUR FACE SHAPE
FASHION COOL NECKLACES FOR STREET BOY & BAND MEMBERS
BRING SEXY FEEL TO YOUR SUMMER LOOK TOP 5 MOST STRIKING CRYSTAL EARRINGS
ENGAGEMENT IDEA IN 2020? YOU NEED A SPECIAL RING